Extended Management Board
The Extended Management Board is made up of business unit managers and key strategic and operational functionaries. They report to the Executive Board.
Karsten Bich
Chief Human Resources Officer (CHRO)
HR & Transformation Division
Karsten Bich was born in Rahden, North Rhine-Westphalia. After a two-year commitment period with the German Air Force and subsequent legal studies and legal internship in Münster, he began his career in 1994 in the Human Resources department of Bankgesellschaft Berlin AG, where he initially worked in various personnel functions, before becoming head of Human Resources in 1997. From 2001 he was also a member of the extended management of Weberbank AG. In 2011, he took over as head of the Human Resources division at Sal. Oppenheim in Cologne. In 2014 he then moved to Landesbank Hessen-Thüringen Girozentrale in Frankfurt am Main, where he was responsible for Human Resources until the end of October 2019.
Karsten Bich joined DIN in November 2019 and has been responsible for Human Resources and Transformation of the DIN Group since the beginning of 2020.
Sebastian Kriegsmann
Chief Information Officer (CIO)
Digital Infrastructure and IT-Services Division
Sebastian Kriegsmann was born in Berlin. After completion of his studies in Political Science and Economics at Freie Universität Berlin and the Institut d'études politiques de Paris (IEP), he worked for business consultant companies in France, Columbia and Germany, his last positions being with Ernst & Young and Capgemini Consulting. In 2014 he joined Beuth Verlag, where he initially took  charge of the Strategy Projects unit and subsequently headed the Digital Services and Processes department from 2016 onwards. In this role he was responsible for various projects relating to the introduction of central software systems, and for the development of the webshop and standards management solutions.
From 2019 to 2020, Sebastian Kriegsmann headed the Strategic Development unit at DIN and is currently (since 1.1.2021) responsible for the Digital Infrastructure and IT-Services business domain.
Dr. Michael Stephan
Chief Operations Officer (COO)
Standardization Division
Dr. Michael Stephan was born in Mannheim. He studied production engineering at the Technical University of Berlin (TU Berlin), receiving his doctorate in 1995 from the Faculty of Mechanical Engineering and Transport Systems. After graduation, Stephan began his career at Daimler AG, where he headed several projects introducing CAD and Product Data Management (PDM) technologies in product development. In 2001 he joined Bombardier Transportation, leading several corporation-wide projects for redesigning and optimizing technical processes and introducing CAD, PDM and SAP systems. Since 2009 Dr. Stephan has held top positions managing rail vehicle projects in Germany and Switzerland.
Since June 2016 Dr. Michael Stephan has been a member of DIN's Management Board, heading the Innovation and Digital Technologies Division from 2016 to 2017 and the Standardization Division since 2018.
Astrid Wirges
Chief Legal Officer (CLO)
Legal Affairs Division
Astrid Wirges was born in Munich. From 1979 to 1989 she studied law at the Ludwig-Maximilians-Universität München and is a licensed lawyer. After completing her studies, Wirges worked from 1989 to 1994 in various positions in human resources at Digital Equipment GmbH in Munich. In 1994 she became Head of Human Resources, Legal Affairs and General Administration at Wohnbau GmbH in Bonn.
She joined DIN in 1997 as Head of Human Resources and Legal Affairs for the DIN Group. In 2003 Wirges became Division Head of Human Resources and Legal Affairs and member of the extended board of management, and as of 2013, member of DIN's Management Board. Since the beginning of 2020, she has focused on Legal Affairs.
Sibylle Gabler 
External Relations Division
Sibylle Gabler was born in Krefeld. She holds a Bachelor's degree from Duke University, USA and an Master's in Communication studies from the Ludwig Maximilian University of Munich, Germany. After completing her studies, she initially worked as a PR manager and then as a golf course operations manager. In 2000, she joined the owner-run medical technology company BIOTRONIK, where she managed various projects and developed the newly established Corporate Communication department.
She joined DIN in 2004, working initially in Communication and as a press officer. In 2016, she was project manager for the development of the German Standardization Strategy involving all stakeholders.
Since 2014, she has been in charge of the newly created Government Relations department, where she is responsible for political communication and maintaining contacts with political decision-makers in Germany and beyond at European level. 
As of January 2023, she is a Member of the Management Board, External Relations Division.
Michael Krüger
Process Management and Quality Division (PMQ)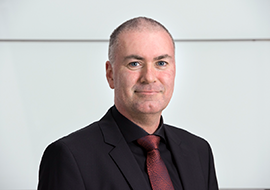 Michael Krüger was born in Freiburg im Breisgau. After completing a trades apprenticeship as a central heating and ventilation fitter and a two-and-a-half year period of military service, he studied civil engineering (specialising in construction operations) in Berlin. In 1999, he began to gain experience in the construction sector. During this time, he also dealt with the topic of occupational health and safety and moved to DIN in August 2001 to join the Standards Committee for Personal Protective Equipment (NPS). He later headed the Process Quality and Inspection (PQ) Group and then the Process Management Standardization (PMN) Department.
Since 2007, Michael Krüger has been responsible for DIN's quality management system in parallel with his other areas of activity, and since the beginning of 2020, with a view to the entire DIN Group, for Process Management and Quality.


Daniela Rickert
Strategic Development / Strategic Project Portfolio Management Division (SPM)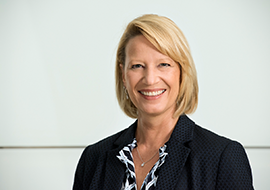 Daniela Rickert was born and raised in Berlin. She graduated from the Technical University of Berlin with a Master's Degree in materials science. After 2 years of self-employment as a consultant on building materials recycling, she began her trainee training at DIN in 1995. In various functions she supervised standardization work in the fields of toys, child safety, personal protective equipment, sports and leisure equipment. From 2011 to 2013, she worked as a consultant at the Federal Ministry of Economics and Technology (BMWi) in Division VIIA4 "Standardization, Patent Policy and Promotion of Inventors". After returning to DIN, she took over as group leader in the Standardization Division with responsibility for the specialist areas of services, security industry, firefighting and fire protection, materials technology, tools as well as machine and plant elements.
Daniela Rickert has managed the Strategic Project Portfolio Management for the DIN Group since 2019, and she has also headed the Strategy Development unit from the beginning of 2021.