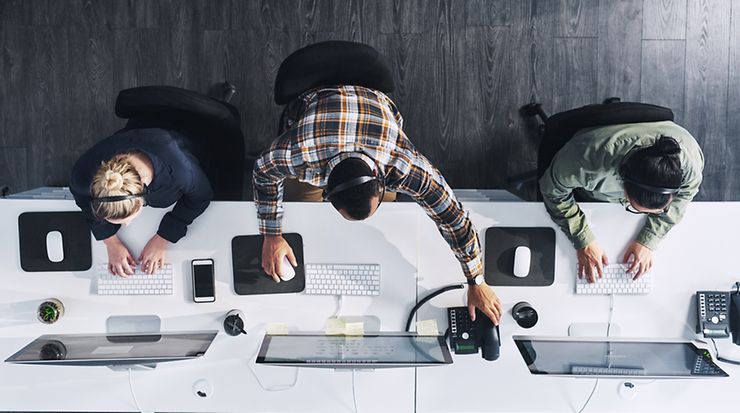 DIN'S SME Help Desk provides the following free services:
Referrals to the responsible external experts or DIN staff members for questions regarding standardization
Forwarding of queries to the responsible external expert or DIN staff members
Advice on searching for standards and specifications
Consultation on training opportunities in standardization
Consultation on opportunities for participating in standardization
Contact information is given to the right. We look forward to receiving your queries by e-mail.
In Germany SMEs can benefit from several national funding programs for standardization. Funding is  available from Federal Ministries and from DIN. For further details please contact Alexandra Horn (alexandra.horn@din.de)
Access to standards and participation in the standardization process.
In order to support SMEs in the best possible way, the DIN SME Commission (KOMMIT) has launched measures to facilitate SMEs' access to standards and participation in standardization. Some of these measures are listed below. Please not that some are only available in German.
Supporting SME
Information on standardization
Hide
Participating in standardization in Germany
Show
Submitting new work item proposals online
Anyone can submit a new work item proposal to DIN via the website.
Information on current project
Web conferencing for committee meetings
Experts can participate in the standardization process anywhere they want by taking part in "webinars".
This reduces travel times and costs.
It also accelerates the decisions-making process.
DIN's "Draft Standards Portal" (German only)
Those who cannot become personally involved in the standardization process can still contribute to the content of draft standards by commenting on them.
Draft standards can be viewed and commented on this portal for free.
Beuth Verlag's webshop
At the Beuth webshop standards, technical rules and other documents can be searched for free. They can also be purchased by direct download.
Free information includes summaries and tables of contents that help customers choose the right standard.
Beuth also offers comprehensive services such as standards management solutions tailored to individual needs.
Standards Flat Rate - Beuth's subscription service
Save money by purchasing standards at a fixed annual flat rate.
Either 25 or 50 DIN Standards, VDI Guidelines and/or ISO Standards can be purchased over the period of one year at a very low price.
Standards Ticker - Beuth's update service
Subscribe to information that helps you keep your standards collection up-to-date - with the option of automatic document delivery.
Save time and money by letting Beuth help you manage your document collection.
DIN Handbooks - at Beuth Verlag
DIN Handbooks are collections of full texts of standards on a specific topic, available at an incredibly low price. All DIN Handbooks are also available as eBooks.
Throughout Germany there are standards "repositories", or libraries, where the public can view standards for free.
Branch-specific standards portals
DIN has set up several standards portals in cooperation with various technical associations, such as the standards portals for the trades, for architects, and for metal workers.
The following organizations are involved in providing these measures:
| | |
| --- | --- |
| Kurzbezeichnung | Name |
| BAK | Bundesarchitektenkammer |
| Beuth | Beuth Verlag GmbH |
| BITKOM | Bundesverband Informationswirtschaft, Telekommunikation und neue Medien e. V. |
| BVDM | Bundesverband Druck und Medien e. V. |
| BVM | Bundesverband Metall |
| DIHK | Deutscher Industrie und Handelskammertag |
| DIN | Deutsches Institut für Normung e. V. |
| DKE | Deutsche Kommission Elektrotechnik Elektronik Informationstechnik im DIN und VDE |
| eStandards | Mittelstand 4.0 Kompetenzzentrum eStandards |
| FGK | Fachverband Gebäude-Klima e. V. |
| HPI | Heinz-Piest-Institut für Handwerkstechnik an der Leibniz Universität Hannover (HPI) |
| LAK | Länderarchitektenkammer |
| SPECTARIS | Deutscher Industrieverband für optische, medizinische und mechatronische Technologien e. V. |
| VDE Verlag | VDE Verlag GmbH |
| VDMA | Verband Deutscher Maschinen- und Anlagenbau |
| ZDH | Zentralverband des Deutschen Handwerks e. V. |
| ZVEH | Zentralverband der Deutschen Elektro- und Informationstechnischen Handwerke |
| ZVEI | Zentralverband Elektrotechnik und Elektroindustrie e. V. |