How can you get involved?
Standardization is essential to promote trust in and the acceptance of artificial intelligence. There are many ways in which you can participate. At DIN you can participate in developing standards and specifications. And getting involved is worth it: Companies and organizations can bring their own interests into the standardization process and thus actively shape the future of their sector.
Initiate standards
A DIN SPEC (DIN Specification) is the fastest way to take an innovative idea and establish it on the market. In a small, temporary workshop of experts, a specification can be developed within a few months. DIN SPECs are trusted strategic instruments for quickly and easily establishing and disseminating innovative solutions on the market. 
Participate in standardization
DIN Standards are the results of work at national, European and/or international level. Standards are developed in committees at DIN, at the European standards organization CEN/CENELEC or at the international standards organization ISO/IEC according to defined principles, procedural rules and rules of presentation. All stakeholders can participate in this work, including manufacturers, consumers, businesses, academic institutes, research institutes, public authorities and testing bodies.  
Interdisciplinary DIN Working Committee "Artificial Intelligence"
To deal comprehensively with the topic of AI, the interdisciplinary Working Committee "Artificial Intelligence"(NA 043-01-42 AA) was founded in early 2018 by representatives from businesses, universities and research institutions, certification bodies, the Federal Office for Information Security (BSI) and ethics experts at DIN.
The committee's task is to develop standards and best practices for AI tools, processes and applications. The risks and opportunities for society are taken into account. The committee works on standards and specifications in order to get a comprehensive understanding of AI. The aim is to ensure broad interoperability among the various disciplines involved in the further development and use of AI and to specify requirements for dealing with AI, for instance in terms of risk and configuration management.
The Working Committee mirrors the work of ISO/IEC JTC 1/SC 42 "Artificial Intelligence" and the CEN/CENELEC "Focus Group on AI". This means that the mirror committee discusses the contents of international standardization projects, consolidates the German opinion and sends experts and delegates to international committee meetings.

Activities at ISO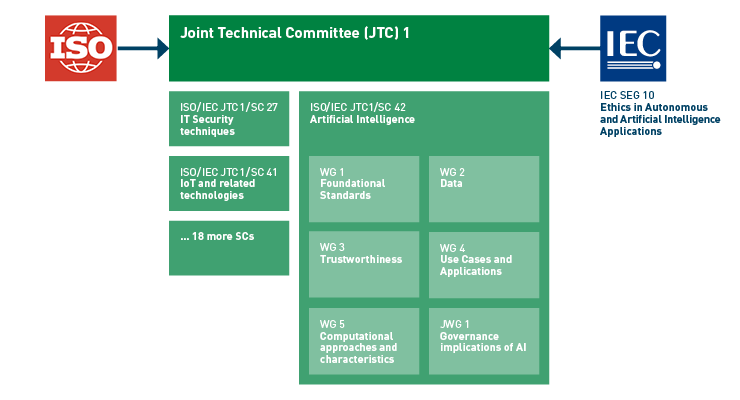 International standardization is carried out within  ISO/IEC JTC 1/SC 42 "Artificial Intelligence" in various groups working on topics such as DIN experts are closely involved in these international activities. DIN is thus one of the leading national standards organizations in the standardization of AI.
At European level, the CEN-CENELEC AI Focus Group is developing a roadmap on AI which examines the need for European standardization for AI within CEN-CENELEC, develops a common vision regarding European AI standardization and provides an overview of ongoing standardization activities in the field of AI.