How to participate
Take advantage of the benefits of standards and get involved!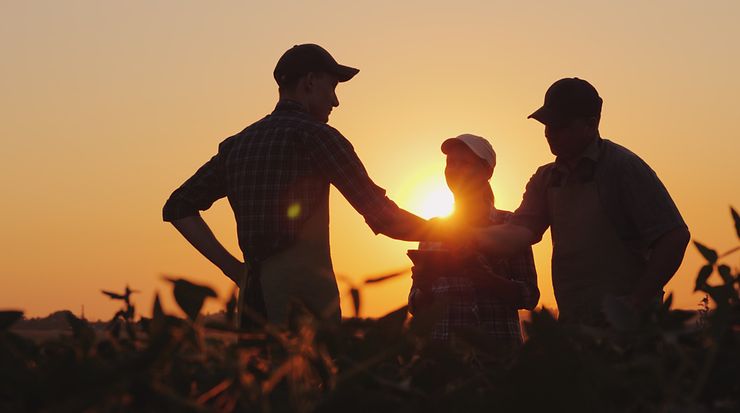 Experts from industry, research and society develop standards and specifications themselves. By participating, you have a broad range of opportunities to get involved in smart farming.
At DIN you can help develop German, European or International Standards and specifications. And getting involved is worth it: Companies and organizations can bring their own interests into the standardization process and thus actively shape the future of their industry. To find out more about participating in standardization and the benefits it offers, click here.
Initiate standards
A DIN SPEC (DIN Specification) is the fastest way to take an innovative idea and establish it on the market. In a small, temporary workshop of experts, a specification can be developed within a few months. DIN SPECs are a trusted strategic instrument for quickly and easily establishing and disseminating innovative solutions on the market.
Participate in standardization
DIN Standards are the results of work at national, European and/or international level. Standards are developed in committees at DIN, at the European standards organizations CEN/CENELEC or at the international standards organizations ISO/IEC according to defined principles, procedural rules, and rules of presentation. All stakeholders can participate in this work, including representatives from industry, research institutes, public authorities, and consumer groups. 
In order to provide a better overview of national, European and international standardization work, smart farming relevant committees are shown in the diagram below. This includes not only German committee structures, but also their European (CEN) and international (ISO) counterparts where available. By clicking on the interactive Visualization, it is possible to view these and obtain links to the websites of the committees.
Starting from the defined topics in the centre of the diagram, the ISO bodies corresponding to the topic are shown one level further out. Again, one level further the CEN bodies that can be assigned to the ISO bodies are visible. The respective national mirror committees, in which the work of CEN and ISO is mirrored nationally, are located on the very outside. From these, experts are sent to the CEN and ISO committees, where they represent German interests internationally.
Here is an overview of the standards committees that deal with various topics related to smart farming.
Standards committees
Food and Agricultural Products
Show
DIN Standards Committee Food and Agricultural Products (NAL) provides support for standardization and timely development of DIN SPECs in the field of analytics, service, management systems and robotics of digital agriculture.
With the goal of making food systems fair, healthy and environmentally friendly, the NAL is available as a consultant to jointly develop solutions, overcome challenges and open up new markets. Here, the focus is just as much on the consumer as on farmers, industry, research and regulators.
Various topics in NAL actively support the development of smart farming.
Aiming to support more precise and resource-efficient and more productive and sustainable agriculture, the following topics are currently the focus within analytics: Soil sample analysis, soil database, fertilizer analysis/optimization, plant analysis (variety search, biostimulants, pesticides), seed database/optimization and food authenticity.
The topic of "pest control" as an element of the service aspect also plays an essential role at NAL.
The management systems to ensure the technical or organizational conditions in the food sector refer to quality management systems, food hygiene and the traceability of food.
As an integral part of robotics at the core of smart farming, the NAL also examines safety and hygiene aspects and minimum requirements for the operation and testing of automated milking systems.
The NAL Steering Committee is responsible for the strategic orientation and coordination of NAL's work. This committee is responsible for prioritizing topics.
In the NAL, you can support the conservation of resources and the environment by actively participating in the food value chain,  in the following ways among others:
Revising standards in the field of soil improvers, fertilizers and animal feed
Developing standards and specifications that deal with biostimulants
Setting standards in the field of food hygiene and food safety in the production, treatment and placing on the market of foodstuffs
Setting standards with a focus on services in the area of food
Contact us and get involved in standards work!  Your contact person at DIN is Juliane Jung.
Information Technology and selected IT Applications
Show
DIN Standards Committee on Information Technology and selected IT Applications (NIA) provides support for standardization and timely development of DIN SPECs in the area of fundamental IT standardization. These include in particular the topics of IT security, automatic identification, the Internet of Things, blockchain and artificial intelligence.
With the goal of designing smarter food systems, the NIA is available as a consultant to jointly develop solutions, overcome challenges and open up new markets. In doing so, all stakeholders will be considered equally.
Various topics in NIA actively support the development of smart farming.
By focusing on topics like IT security, data protection and cybersecurity, "smart" systems for the production, processing and distribution of food and other agricultural goods can be designed securely and be protected from external interference. Furthermore, this ensures that the necessary data is protected in accordance with regulatory requirements.
The automatic identification of goods in the food chain already plays an important role and will become even more essential in the future. In addition to technologies like barcodes and RFID, blockchain is also a key element.
The Internet of Things already contributes significantly to the smart home and other smart systems. This will also be the case when it comes to smart farming. Sensor networks can collect a wide variety of data and make it available via the internet. The intelligent evaluation of this data is another way in which IT can support smart farming.
Artificial intelligence ensures that systems evaluate data and react autonomously to learned patterns and also adapt and develop them further.
Several standards published by NIA already support smart farming today. The list of NIA projects and standards can be found here: https://www.din.de/en/getting-involved/standards-committees/nia
The NIA Steering Committee is responsible for the strategic orientation and coordination of NIA's work. This committee helps to prioritize topics. In addition, the NIA's working committees develop the fundamental standards that can later be used or adapted for sector-specific systems, such as the smart farming sector. In the past, for example, joint workshops have taken place with NIA and NAL. The topic at hand was the use of blockchain in the food chain.
In NIA, you can lay the foundations for connected and smart farming by actively participating in the standardization of information technology, for example in the following ways:
Development and revision of standards dealing with IT security, data protection and cybersecurity
Developing standards and specifications that support automatic identification
Participating in standardization in the area of Internet of Things and artificial intelligence
Setting standards with a focus on blockchain related to foodstuffs
Contact us and get involved in standards work! Your contact person at DIN is Andreas Lamm