DRIVER+
Driving Innovation in Crisis Management for European Resilience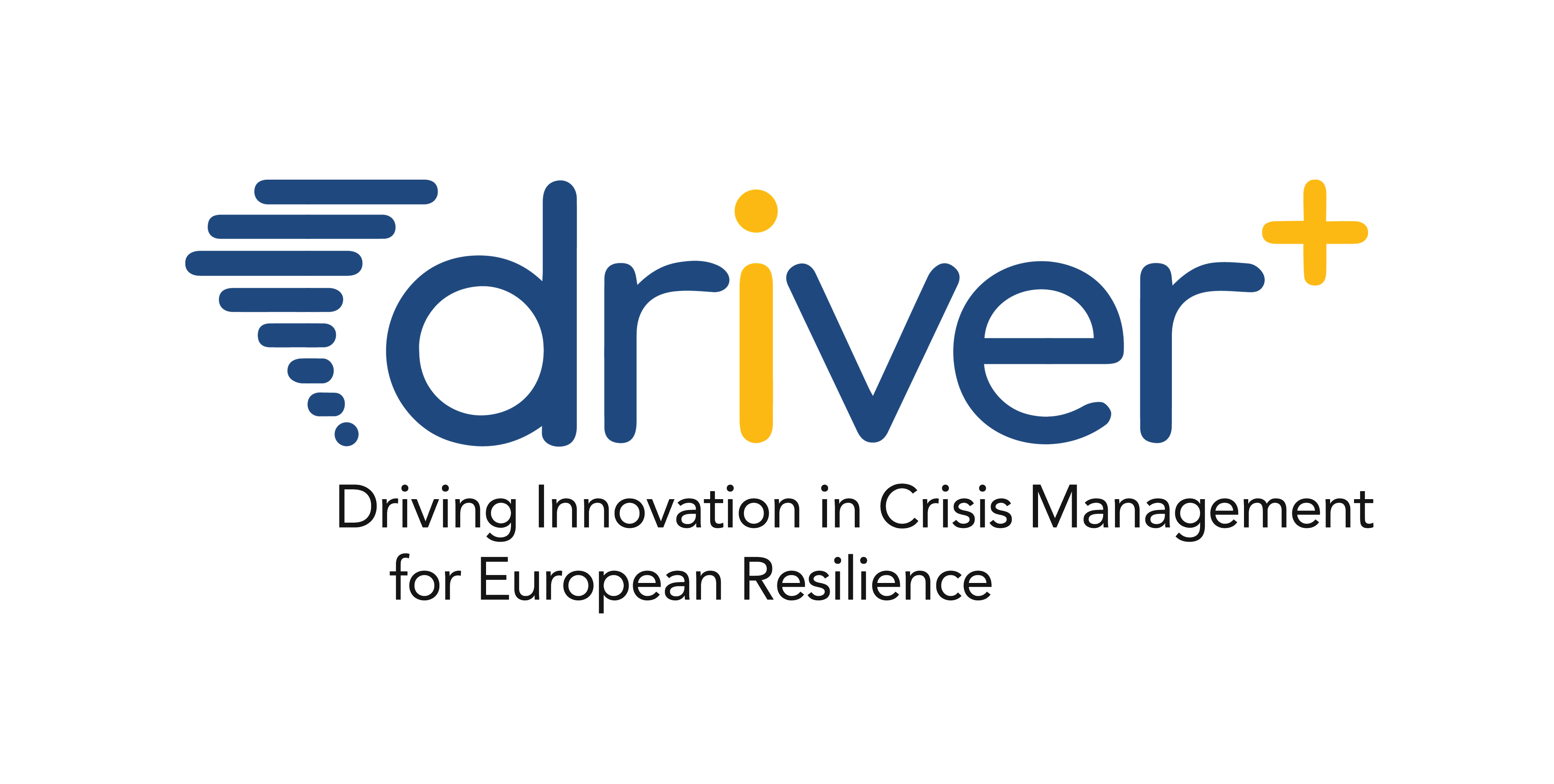 What is the understanding of crisis management in Europe? Where are there similarities between countries, and where are there differences? What types of technology and tools are used in crisis management? Which solutions already exist? The project DRIVER+ (Driving Innovation in Crisis Management for European Resilience), funded by the European Commission, addresses these issues.
To this end, a consortium of 31 organizations from 14 different countries is developing a pan-European test-bed of virtually networked training facilities and crisis laboratories. This test-bed allows users, solutions providers, researchers, policy makers, and citizens to work together step-by-step on new approaches and solutions to emerging crisis management issues. In addition, the technology and tools used for crisis management will be investigated in this test-bed and  collected in the DRIVER+ Portfolio of Solutions then. The project DRIVER+, which runs until April 2020, also aims to create a shared pan-European understanding of crisis management. Various events with external partners are planned to ensure that this goal is achieved. For current information and the project newsletter, go to the project website at: http://www.dri??ver-project.eu.
DIN's responsibility lies in handling communications and the dissemination of results. The objective of the Standardization work package is the transfer of the project results through the development of new standards or as input for existing standards and specifications in crisis management – at the European and international level. The first step will be to analyse current standardization activities and existing documents both at the European and international level. The second step will be to identify potential standardization topics based on this work and in light of the research results of DRIVER+. These topics will then be used to initiate project-specific activities, such as CEN workshop(s).
Project duration
05/2014 – 04/2020
Project partners
ATOS Spain SA (Spain) - Project coordinator
AIT Austrian Institute of Technology GmbH (Austria)
ARTTIC (France)
Association pour la Recherche et le Développement des méthodes et processus Industriels – ARMINES (France)
Austrian Red Cross Research GmbH (Austria)
Centro de Innovación Tecnológica para Logística y Transporte Mercancías Carretera (Spain)
Dansk Røde Kors (Danish Red Cross) (Denmark)
Deutsches Zentrum für Luft- und Raumfahrt e.V. – DLR (Germany) - Quality manager
DIN German Institute for Standardization, Berlin
Disaster Waste Recovery (Great Britain)
Ecorys Nederland B.V. (The Netherlands)
Edisoft (Portugal)
Entente pour la Protection de La Forêt Méditerranéenne (Valabre) (France)
Frequentis AG (Austria)
GMV Aerospace and Defence SA Unipersonal (Spain)
HKV Lijn in Water B.V. (The Netherlands)
ITTI sp. z o.o. (Poland)
JRC (Joint Research Center), European Commission (Italy)
Magen David Adom in Israel (Israel)
Nederlandse Organisatie voor Toegepast Natuurwetenschappelijk Onderzoek – TNO (The Netherlands) – Project director and Technical director
Peace Research Institute Oslo – PRIO (Norway)
Public Safety Communication Europe Forum (Belgium)
City of Den Haag (The Netherlands)
Thales Communications & Security (France)
The Centre for Security and Defence Management (CSDM) (Bulgaria)
The Estonian Academy of Security Sciences (EASS) (Estonia)
The European Organisation for Security SCRL (Spain)
The Main School of Fire Service (SGSP) (Poland)
The Space Research Centre of Polish Academy of Sciences (SRC PAS) (Poland)
University of Münster (WWU Münster) (Germany)
XVR Simulation (The Netherlands)
Project funding 
The research project is funded by the European Union in the 7th Framework Program (Grant Agreement No. 607798) and launched in May 2014 under the name DRIVER. After a six-month suspension phase and some changes in the consortium, the project was restarted in September 2017 under the name DRIVER+ and runs until April 2020.